The standard research grant application process
Once you have decided to apply for a research grant from a sponsor, please complete the following steps: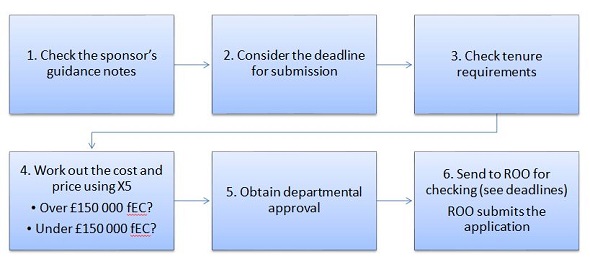 1. Check the sponsor's guidance notes
As well as providing useful guidance, these notes should indicate whether you are eligible for the funding scheme for which you are intending to apply.
2. Consider the deadline for submission
For applications with a specific deadline, you will need to give the Research Operations Office 3 working days to check your research grant application, and if it is an Open Call please allow 5 working days.
Remember that before reaching the Research Operations Office, the application needs to be approved by your Department – your local administration can advise on the deadlines in place locally.
In addition, if your application is part of a larger research grant application with other Institutions, then you may need to finalise the application by an earlier date to meet the deadlines imposed by a collaborating Institution.
3. Check tenure requirements
Please check that the academic who is leading and responsible for the research project – the Principal Investigator (PI) – meets the tenure requirements of the funding body. This is also relevant for Co-Investigators (Co-Is).
4. Work out costs and price using X5
X5 is the costing tool used to calculate the Full Economic Cost (fEC) of a given project before applying for funding. Your Departmental Administrator is your first point of contact when needing assistance with the application.
5. Obtain departmental approval
Please consult with the appropriate person in your department (Head of Department or their designated delegate such as the DA) to check that the project proposal has their approval.
6. Send to ROO for checking
Please read more about checks available by ROO